Concrete Answers Series for Architects, Engineers and Developers |
Click here for more answers
Help
for Commercial Projects
Stenciling, Staining and Skinning
Imagination Preserved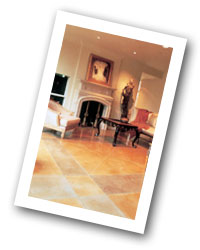 Concrete's flexibility makes it a versatile medium in the hands of creative people. Like integral color and stamping, stenciling, staining and skinning can also enhance concrete.
With stenciling, areas of a concrete surface are masked or exposed so that sandblasting, coloring and etching, leaves a pattern and faux finish, but with shallower grout lines than stamped concrete. From a pattern of butterflies or sea shells to the appearance of fossils in stone, texture skinning can produce dramatic and unique effects.
Stains and other penetrating coatings enhance these effects and produce lustrous marbling, mottling and other kinds of unique variations, including effects that are reminiscent of suede, distressed leather and other materials.