Concrete Answers Series for Architects, Engineers and Developers |
Click here for more answers
Help
for Commercial Projects
Exposed Aggregate
Advanced Systems for Uniformity and Durability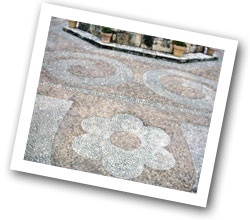 Exposed aggregate has long been a favorite of architects and designers who are looking for a subtle or dramatic, yet practical architectural concrete treatment. Today, advanced technology offers additional texturing options, with more control over levels of exposure, as well as greater uniformity, strength and durability.
Exposed aggregate systems produce terrazzo or marble-like results, using glass or other exotic aggregates, in a single, load-bearing placement.
Ideal for hardscapes, exposed aggregate is a practical, sustainable and attractive solution where slip-resistance, resilience and durability are important.